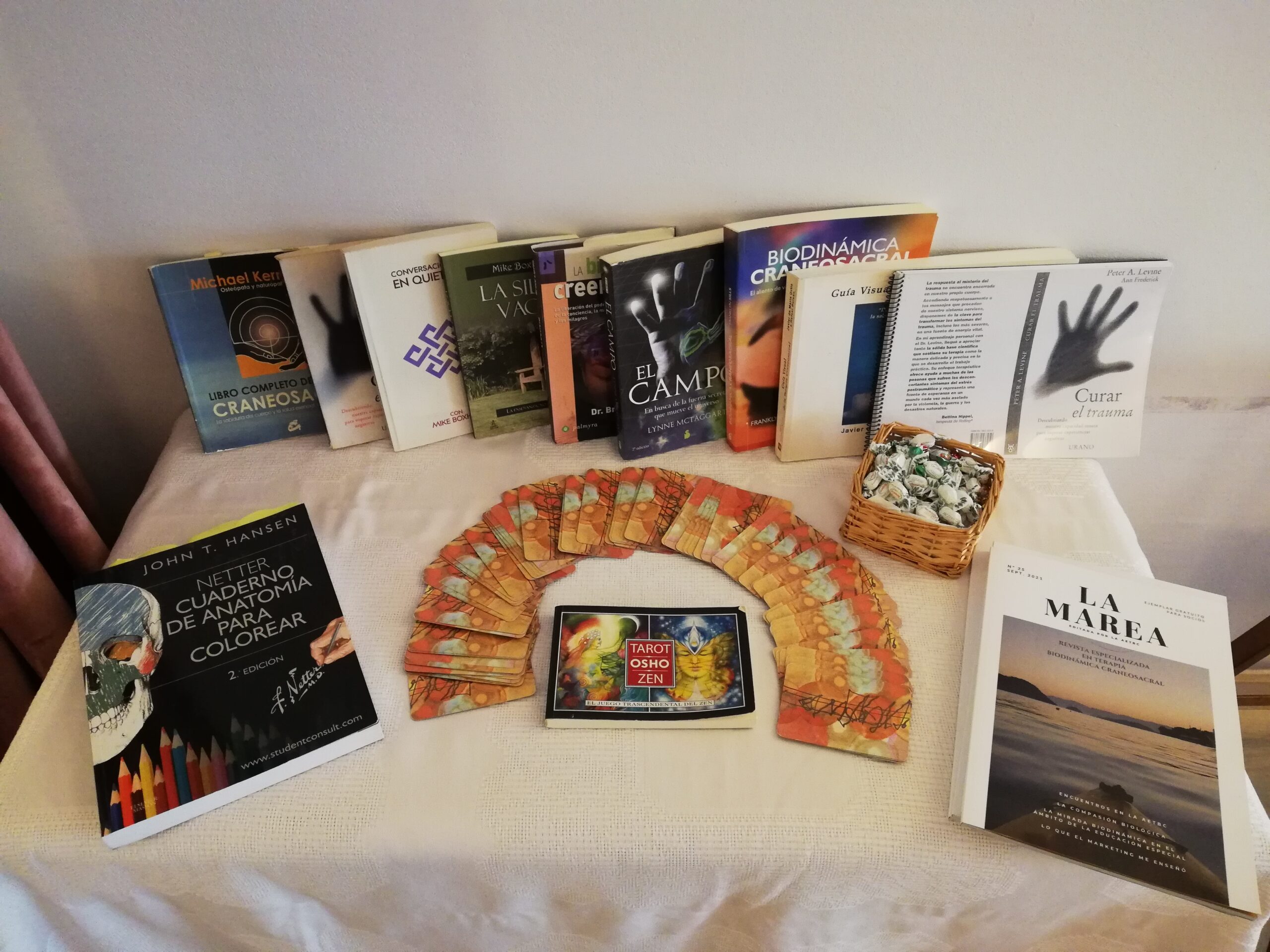 LITERATURA EN CASTELLÀ
Michael Kern
Libro completo de terapia Craneosacral
Gaia Ediciones  ISBN 84-8445-051-1
Franklyn Sills
Biodinámica Craneosacral / El aliento de vida, la biodinámica y las habilidades fundamentales
Ed. El grano de mostaza
ISBN 84-941873-4-1
Michael Shea
Terapia Cranoesacral Biodinámica Avanzada / El corazón de la práctica
Ed. El grano de mostaza
ISBN 978-84943549-3-9
Peter A. Levine
Ed. Urano
ISBN 84-7953-325-0
Michael Boxal
Ed. El grano de mostaza
ISBN 978-84-939311-3-1
Conversaciones en Quietud
Ediciones Advaitia
Jaap Van der Waal
Arte Editorial
ISBN:978-84-942620-6-7
Carles Company
Presencia Biodinámica / Un círculo de escucha
Ed. Circulo Rojo
ISBN 978-84-9076-245-5
Daniel J. Siegel & Mary Hartzell
Ed. La llave
ISBN 978-84-95496-84-3
Daniel J. Siegel & _Tina Payne Bryson
El cerebro del niño / 12 estrategias revolucionarias par cultivar la mente en desarrollo de tu hijo
Alba Editorial
ISBN 978-84-8428-714-8
Aletha J. Solter
Ed. Medici
ISBN 978-84-89778-59-7
Ed. Medici
ISBN 978-84-89778-61-0
Llantos y rabietas / Cómo afrontar el lloro persistente en bebés y niños pequeños.
Ed. Medici
ISBN  978-84-89778-60-3
Stanley Keleman
Ed. Desclee de Brouwer
ISBN 978-84-33012074
Roger Gilchrist
La terapia craneosacral y el cuerpo energético
Ed. Gaia
Thibodeau / Patton
Estructura y Función del Cuerpo Humano
Elsevier Mosby
ISBN 978-84-8174-326-5
Fritjof Capra
El Tao de la Física (Campo)
Ed. Sirio
ISBN 978-84-7808-175-2
Lyne Mctaggart
Ed. Sirio
ISBN 978-84-7808-187-5
Netter Frank H. Netter, M.D.
Icon Learning Systems
ISBN 84-458-1297-1
ANGLÈS
Dr. A. T. Still
Philosophy of osteopathy. Kirksville. American Academi of Oetheopathy, Ohio, 1986
Otheopathy, reaserch and practice. Eastland Press, 1992
Dr. William Garner Sutherland
Teaching in the Science of Osteopathy, ISBN Nummer: 0-915801-26-4
Contributions of thoughts
Michael Kern
Wisdom in the Body, the craniosacral approach to essential health
Thorsons 2001, ISNB Nr.: 0-7225-3708 5
Rolling E. Becker
Life in Motion, ISBN Nummer: 0-9675851-0-4
The Stillness of Life, ISBN Nummer : 0-9675851-1-2
Franklyn Sills
Craniosacral Biodynamics, North Atlantic Books 2001, ISBN Nr. 1-55643-354-9
Volume one, two, three
Michael J. Shea
Biodynamic Craniosacral Therapy Volume one, two, three, four, five  North Atlantic Books IBSN Nr.  978-1-55643-591-1,978-1-55643-715-1, 978-1-55643-933-9
Adah Sutherland
– I- Magoun
Osteopathy in the Cranial Field
Don Cohen
An Introduction to Craniosacral Therapy, North Atlantic Books Berkeley 1995
Milne
The Heart of Listening, North Atlantic Books, Berkeley, CA, 1996
ANATOMY
Anatomy coloring Atlas
Physiology coloring Atlas
Neuroanatomy coloring Atlas
Deane Juhan, Job´s Body
Anatomy Atlas, Netter, Novartis
Ornstein, R. Thompson, The amazing Brain, Houghton Mifflin Company, Boston 1984
FOR THE PUBLIC
Mary Louise Muller:
You have a fine head on your shoulders, Selfhelp for Cranial Ointegratopnm. Âcofoc Distribuiting, Murrieta, CA 1992
Available through
Osteopathic and biodynamic books also through:
Osteopathic Supplies Ltd.
England
Tel. 0044 1432  263939
Fax 0044 1432  344055